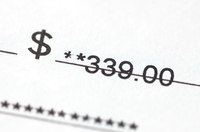 Advances in technology have made the creation of authentic-looking counterfeit checks easier than ever. Fake check scams cost unsuspecting consumers millions of dollars each year. Learn what to look for and how to prevent a fake check scam from affecting you.
Identification
There are many variations to the fake check scam, but most begin with a letter or notice requesting that the recipient cash an authentic-looking check. In return for wiring applicable service charges and and fees back to the sender, the sender promises that the recipient may keep the remaining proceeds. While your bank may initially cash the check, it will eventually bounce—leaving you responsible for the face value of the check and fees for insufficient funds.
Prevention
According to the office of the attorney general of Massachusetts, "There is no legitimate reason for someone who is giving you money to ask you to wire money back." Ask that the check be in the exact amount and drawn from a local bank. If you feel uncomfortable with how the transaction is proceeding, end it immediately and file a complaint with the U.S. government's Federal Trade Commission and—if the offer was made over the Internet—the Internet Fraud Complaints Center.
Effects
Beyond the financial impact, you may be subject to prosecution. If you feel you may have been scammed, contact your bank immediately, explain the situation and ask not to have any negative actions taken against you. While the bank does not have to honor your request, you may still benefit from your readiness to remedy the situation.