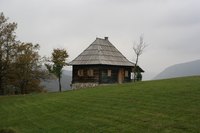 Homeowners cannot call a landlord about plumbing problems, but they can receive tax benefits from certain costs associated with home ownership. The cost for the plumber is not tax-deductible, but financing costs and property taxes are tax deductions.
Mortgage Interest
Interest paid for debt secured by your home is deductible on your tax return. This makes the part of your income spent on mortgage interest not subject to federal income tax.
Property Taxes
Property taxes paid on your homestead are deductible from taxable income. The deduction is taken in the year the taxes are paid, not when merely assessed. This tax deduction is available for taxes paid on the home to any local taxing authority—including cities, counties, school districts and other tax collecting entities.
Itemize Deductions
In order to deduct home mortgage interest and property taxes, you must itemize your deductions on Schedule A of your annual income tax return. Deductions are itemized when the sum of the items exceeds the standard deduction. Home ownership usually provides sufficient tax deductions to itemize.
Another tax benefit arises from itemizing deductions. The deduction total is increased by adding tax deductions from other itemized categories, such as charitable donations, investment expenses, un-reimbursed employee expenses and deductible medical costs. These items alone normally do not exceed the standard deduction. But you receive a tax deduction for these amounts when they are itemized with home ownership deductions.