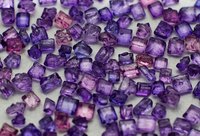 Though sapphires are most often blue in color, they come in many other colors, as well. Sapphires, like rubies, are made from the mineral corundum. Both gemstones get their colors from imperfections in the stone; in sapphires, color comes from different levels of deposits of titanium and iron.
Blue
Sapphires can be any variety of blue along the color spectrum. The most prized blue sapphire color is a cornflower blue sapphire or a Kashmir sapphire, both considered to be "vivid" types of sapphires.
Colorless
Some sapphires do not register color and are white, like diamonds. These can be heat-treated to bring out blue or pink colors.
Fancy
Any variety of sapphire that is not blue is termed a "fancy sapphire." These sapphires appear in pink, yellow, green, purple, Padparadschah (orange-pink) and even color-changing, which looks different depending on the light. Of these, the Padparadschah is the most highly sought-after variety.