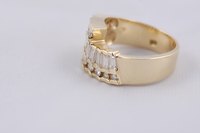 Jewelers use many different cutting variations to cut their stones. One of these, the calibre-cut, makes use of smaller or medium stones to use in the design process. The shapes tend to be rectangular or square and have step-cut facets around the edges. They are meant to fit exactly into a space or to lean up against a larger stone.
Square Shapes
The step cut, or calibre method of cutting, is sometimes used for cutting precious or semi-precious stones into square shapes. These are not as bright or brilliant as some other cuts because most of their facets are around the edges. However, they are simple and beautiful in their settings. Diamonds, sapphires, rubies, emeralds and other precious stones work well with square stones.
Baguettes
Simple rectangular-shaped baguettes are also calibre-cut, have stepped facets, and are used mostly as side stones for bigger jewelry designs, especially in rings. Most commonly used stones are diamonds, emeralds and sapphires. However, many other semi-precious stones are also calibre- and step-cut into baquettes.
Tapered
The tapered style of baguettes, generally used with diamonds and sapphires, are often mounted in ring shanks around a bigger center stone. This type of calibre cutting helps to intensify the beauty and brilliance of the main stone, mostly in rings, but sometimes in other jewelry as well.