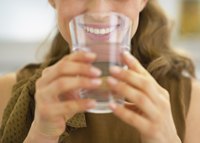 Isogenic diets seek to detoxify the system through the use of supplements and other products. The best-known isogenic diet is sold through Isagenix, a multi-level marketing company. There is debate as to the merits and effectiveness of isogenic diets. Experts at New York University's Langone Medical Center state that there is no hard evidence to support the effectiveness of a detox diet. Speak to your physician before you consider going on one.
Cleansing
Isogenic diets incorporate nutritional cleansing as a major component. The makers of these diets assert that users can lose weight by cleansing their body of toxins; the colon, especially, is a target for this cleansing. The theory is that people carry as much as 25 pounds of extra weight in their digestive tract, and that cleansing can release this weight. These claims have not been scientifically proven, however.
Nurtitional Support
Isogenic diets also incorporate "nutritional support." Through the use of supplements, meal replacement products such as protein shakes and specially prepared packaged foods, isogenic diets claim to provide complete nutrition. This may allow the body and its systems to function at optimal levels and purge toxins.
Drawbacks to Isogenic Diets
Current science does not support isogenic diet claims that cleansing the body will lead to long-term weight loss. Cleansing may jumpstart weight loss, but does not seem to be a formula for lasting loss. Additionally, most isogenic diet products must be bought through a distributor and do not offer a money-back guarantee.
What a Day Looks Like
Different isogenic diets vary in their protocol, but using the Isogenix plan as an example, you have shake days and cleanse days. On shake days you enjoy two shake meals per day, and one meal of 400 to 600 calories. Your meals should be well balanced and consist of lean proteins, complex carbs and healthy fats. On shake days you will also be drinking plenty of water and taking your supplements. Cleanse days are more intense and should occur no more than twice a week. A cleanse day begins with a cleanse mix and supplements, and they are repeated throughout the day. You may also have two, pre-packaged plan snacks and it's recommended that you drink at least half of your body weight in ounces of water. So for example, if you weight 160 pounds, it's suggested that you drink 80 ounces of water. If your doctor has approved an isogenic diet for you, you will want to study and adhere to your specific plan's guidelines.