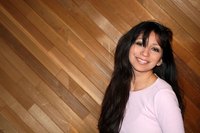 You don't need to spend tons of money on expensive hair products and treatments in order for it to grow long and strong. Instead, use your diet and natural supplements to build healthy hair follicles from the inside out.
Nutrients
The first place you can affect your hair is through your diet. Eat a healthy diet full of nutritious fruits and vegetables, avoiding processed foods and junk foods. A balanced diet is most beneficial. Also try to incorporate healthy fats, such as fish, nuts and oils (such as olive oil) to help moisturize and strengthen hair as it grows.

Vitamins
Vitamin B is very important for hair growth. A vitamin B supplement with high amounts of biotin, also a B vitamin, can be very beneficial for hair growth. Vitamins C and E can also encourage healthy and speedy hair growth. Supplements are available that are specially formulated for hair growth, as well as skin and nail health. Many of these blends include B vitamins, herbs and minerals that help support hair, making it stronger and healthier.

Minerals
Minerals, like vitamins, are essential to hair growth. Silica, magnesium, zinc and sulfur are just a few minerals that can be beneficial for hair. Many of these minerals are found in multi-vitamins, can be taken alone, or can be found in mineral supplements.