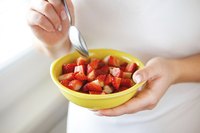 RDA stands for recommended daily allowance or recommended dietary allowance. These values, set by the Food and Nutrition Board at the Institute of Medicine, are part of the system of nutritional recommendations and nutrient consumption.
Definition
The RDA is defined as the average daily dietary level of nutrient intake that sufficiently meets the requirements of nearly all -- 97 percent to 98 percent -- of the healthy population. The RDA values are used to create the recommended daily values for nutrients, which are printed on food labels in Canada and the United States.
Creating the Values
The Food and Nutrition Board has created RDA values for as many essential nutrients as possible, based on both gender and age. First, a review of available scientific literature is done, and from that the estimated average requirement values are created. These values are then used to develop an RDA that suits most of the population.
RDA vs. AI
If there's not enough evidence to set an RDA, the Institute of Medicine can set an adequate intake, or AI, that corresponds to an intake level that's assumed to be adequate in healthy people. As more research becomes available, the Institute of Medicine can work on setting a more accurate recommendation, the RDA.