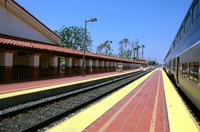 The comfort level on an Amtrak train depends on the class of ticket you purchase. While a basic level of comfort is maintained in all classes, the more you pay, the more amenities become available.
Ticket Class
Amtrak has different options for seating on most trains depending on the ticket purchased. The ticket classes available are coach, business and first class. Coach and business class are available on most trains. First class is only available on Acela Express trains, where business is the minimum class available. Most long distance routes have sleeping accommodations. These include roomettes, bedrooms and bedroom suites.
Seating Amenities
Coach class includes an individual reading lamp and fold-down tray. Most long distance trains provide extra-spacious seating with leg rests. Passengers may use their personal electronic devices, but limited electrical outlets are available.
Business class has the coach amenities plus headrests, footrests and electrical outlets. First class has the business class amenities along with at-seat attendant service and movable arm and footrests. A quiet car where conversation and noise are discouraged is available on most trains. The seating on this car is first-come first-served and can't be reserved.
Sleeping Amenities
All levels of sleeping accommodations have the following amenities included in the ticket price: regular meals, fresh linen and towel service, bottled water, a daily newspaper and electrical power outlets. Roomettes and bedrooms accommodate two adults; bedroom suites, four adults and family bedrooms, two adults and two children. Bathroom amenities for each option vary between trains.
Meal and Dining Options
All ticket classes have access to dining cars and lounges. Most long distance trains feature a dining car that serves full meals. These meals are included in the price of first class and sleeping accommodation tickets. Other passengers may pay for their meals. Reservations are required for lunch and dinner on long distance trips. Many trains also have dinette or lounge cars that serve snacks and carry-out food such as sandwiches and salads.