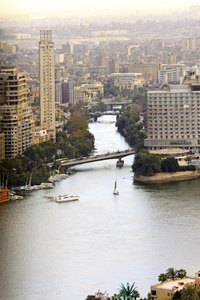 The Amazon, Nile and Mississippi are three of the world's most prominent rivers. Although they are located far apart and have many differences, they also share many similarities. These similarities include their very large size, broad deltas and history going back to ancient times.
Enormous Size
These three rivers are all among the world's longest, with the Amazon and Nile competing for the title of No. 1. The Mississippi, when including the connected Missouri River, is the world's fourth longest, after the Yangtze in China. Each of these rivers is also the longest -- and among the largest in total water flow -- on its respective continent.
Vast Deltas
When a major river reaches the sea, the sediment from the river often forms a new area of land called a delta, where the river splits into many channels. The Nile River ends in a textbook example of a delta, with fertile soil that makes it Egypt's main agricultural area today. Meanwhile, the Mississippi River Delta is a geographically and ecologically important area in the United States. By some definitions the Amazon does not have "true" delta, due to increased erosion by tides and currents, but it nevertheless has a large area of wetlands around its mouth that are referred to as the Amazon Delta.
Ancient Cultures
The Nile is famous as the center of the ancient Egyptian civilization, but the Amazon and Mississippi rivers played important roles in the ancient world, too. A thousand years ago, the Native American metropolis of Cahokia was located alongside the Mississippi River, across from the modern site of St. Louis. Meanwhile, archaeological evidence suggests the Amazon basin was once home to a much more complex society than at present, with highly organized settlements and roads, as well as a culture that transformed the region's forests and soils to facilitate human habitation.
Disputed Sources
When a river system is very large, with a huge central channel and numerous tributaries, it becomes difficult to measure and define where exactly it begins. Differing methods of defining a river's "source" have led to a hot debate over whether the Amazon or Nile River is longer. Geographers especially disagree on whether to count tributaries with sections that don't flow all year. The length of the Mississippi also varies depending on your definition. The U.S. government measures it as much shorter than other geographers do, by excluding the Missouri River tributary in favor of the "straightest" course.