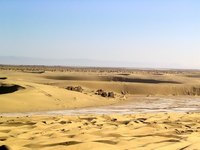 The Simpson Desert is an expanse of red sands and dunes located in central Australia. Like many of the world's other deserts, the Simpson Desert can be quite hot, especially on summer days, and cold at night, particularly during winter.
Summer
Temperatures in Simpson Desert are very extreme. In January, the middle of the Australian summer, the high is 97 F (36 C), according to Australian Explorer. However, summer temperatures often soar above 139 F (50 C). The low for January is 70 F (21 C). The average low temperature for the summer season is 68 F (20 C), and the average high is 95 F (35 C).
Winter
The Simpson Desert has mild winters, with an average seasonal high of 68 F (20 C) and an average seasonal low of 41 F (5 C). The coldest month, July, sees temperatures ranging from 66 F (19 C) to 39 F (4 C). However, because desert temperatures drop dramatically when the sun goes down, July's nightly temperatures can drop below freezing.
Rainfall
The Simpson Desert also receives very little rainfall. In fact, the region receives only 59 inches annually and almost none from the months of April through September.