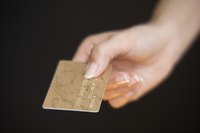 In an advanced nation like the United States, you have money of your own that you control, to use for your purposes. The United States considers the sum of the monies every citizen has in their control to be the money supply.
Money
Your money is an asset to you, and is classified in units of currency. The units are paper money, the money in your checking account, traveler's checks, coins and money market mutual funds.
Use of Money
Money is a commodity used as a unit of transfer. It's transferred in exchange for dismissal of a debt, or in return for merchandise or a service.
Credit Cards
A credit card is not included as part of the money supply, because it's a liability. Whenever you use your credit card, you are taking out a loan from whoever issued you the card. You will pay back that loan with an asset, some of your money.