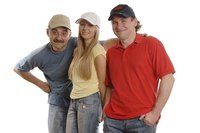 According to SkinMD, baking soda and apple cider vinegar are good for cleaning and toning the skin. The overall cleansing properties of baking soda and astringent properties of apple cider vinegar make the combination a natural acne treatment.
Properties
Baking soda and apple cider vinegar are natural. They do not have any harsh chemicals. According to SkinMD, both products are also antibacterial.
General Face Cleansing
Mix 1 or 2 tsp. of baking soda with several drops of water. Gently rub the mixture over the face and then rinse. The baking soda cleans the skin by removing dead skin, oils and dirt. Mix one part apple cider vinegar with one part water. Use a cotton ball and apply the mixture to the face. The apple cider vinegar helps close the pours. A natural moisturizer such as coconut or almond oil can be used.
Problem Acne Cleansing
For people with problem acne, apply the baking soda and water mixture from Step 2 to the face and rinse. Smooth a thin layer of honey onto the skin and wait for approximately 10 minutes. Rinse your face with warm water and apply the apple cider vinegar mixture to the face.