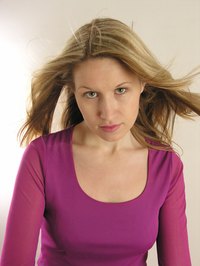 "The cost of hair extensions varies based on: the quality, type and length of hair extension chosen, the method of application and the length and density of the natural hair," according to Costhelper.com. Many variables are incorporated into the average cost of hair extensions, but a few basic hints are helpful.
Partial
The cost of a partial head of hair in the form of an extension includes the labor required in styling and the actual price of the hair. These prices range from $400 to $800, which places the average cost at at about $600 for a partial head of hair.
Full Hair, Average Length
A full head of hair in extension form, designed to make thinning hair fuller and of average length, has a price range of $1,300 to $1,600. The average cost would be in the area of $1,450.
Very Full Hair and Extra Length
To extend hair with extensive fullness and added length, or to qualify as thick and long, the cost has more variables. The range is from $1,600 to $4,000 and depends on the quality of the human hair. The highest quality is not brushed at all, but simply cut and made into an extension. The average price for this type of extension is about $2,800.