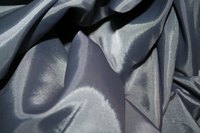 While clothing made of silk is usually very beautiful, it can be difficult to care for. The way you launder a silk skirt differs based on the types of dyes used in the fibers and the way it is made.
Washing Silk
Read the care instructions on your silk skirt before laundering it. If it says to only dry clean the skirt, don't hand wash it. Some skirts can be hand washed, though. If the care instructions say washing it is OK, use cold water and a gentle detergent. You should wash the skirt by itself so that it does not bleed onto other garments or absorb dyes from other clothes. Don't twist your skirt or wring it out.
Warnings
Never bleach a silk skirt. Chlorine will wear away the skirt's fibers. Don't dry a silk skirt in the sun, as sunlight can make the dyes fade or cause white silk to yellow.
When to Dry Clean
Even if the care instructions say it is all right to hand wash your skirt, if you get a stain on it, it is best to take it to a dry cleaner to remove the stain. Adding water to a stain on silk may make the stain more difficult to get out.