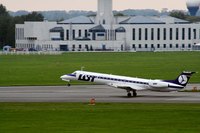 Not all air travelers have the luxury of purchasing their tickets ahead of time. Most major airlines offer ticket purchasing at the airport, giving people who haven't purchased their seat an opportunity to do so at the last possible moment.
Function
Customers can locate ticket counters throughout the airport. Once a traveler finds the airline of his choice, he approaches the ticket agent, provides the relevant information (destination city, date of return flight, proper identification) and is issued a ticket. Ticket counters accept most major credit and debit cards.
Benefits
By purchasing a ticket at the airport, a traveler can take care of everything in one place. Most ticket agents are able to process a traveler's identification, issue a boarding pass and pass along any checked baggage at the same booth.
Drawbacks
Tickets purchased at the airport are often more expensive than ones purchased online, or through a travel agency. Additionally, customers who wait to buy a ticket at the airport won't have many seats to choose from, since the majority of seats have already been filled through online or travel agent purchases.