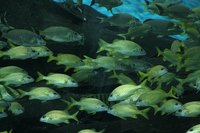 Containing fish in a pen culture is an alternative open system of commercial breeding that allows interaction with the immediate environment, yet prevents the entry of undesirable animals and fish that may harm the cultured stock.
Location
Pens are located in marginal or near offshore areas of large bodies of water or sometimes in large ponds. This method is considered eco-friendly as it does not pollute the environment.
Construction
Bamboo or wooden poles planted into a lakebed or shoreline bottom form the pen frame. Nets strung from pole to pole and weighted into the lake bottom form the enclosure into which fish are placed.
Advantages
Commercial fish grown in pens in fertile lakes generally have very good growth rates. This method is also successful in unproductive water when supplementary feeding is provided. Little maintenance, except for care of netting, is required.
Disadvantages
Set-up costs can be expensive as nets must be made of nylon or plastic to avoid rot and water logging. Pens last three to five years, thus requiring periodic replacement. Because pens are often set up in shallow water where fish spawn, they sometimes reduce natural production in some lakes.