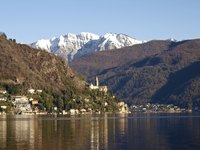 Situated in the southern foothills of the Swiss Alps, Lugano's unparalleled beauty and thriving culture make it one of Switzerland's most popular places to visit. The journey from Milan -- Italy's closest major city, south of Lugano -- is scenic and brief, and can be easily accomplished via car or train.
Cruise by Car
If you wish to drive from Milan to Lugano, the simplest route is scenic Highway E-35. From Milan, get onto E-35 northbound and drive for just under 50 miles, around 75 km, to reach Lugano.
Travel by Train
If you'd prefer to travel by train, the only direct route is with Rail Europe. Reservations for this route can be made in advance from Milano Centrale station to the Lugano station. The trip takes approximately one hour and seven minutes, and you'll see panoramic views of northern Italy and southern Switzerland throughout its duration.