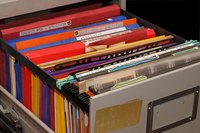 A back office is a part of a company where administrative operations such as accounting or human resources take place. A company's engine room, it is in charge of running the company itself, not the company's business. Back office functions vary depending on the company's activity.
Typical Back Office Functions
Inventory management, finance and accounting, human resources, payroll, logistics and information technology are some of the typical back office activities. In a bank, the back office processes checks and loan payments, while in a brokerage firm, back office functions include trade settlements and regulatory compliance.
Middle and Front Office
Typically, a financial services company has three parts: front, middle and back office. The front office is the one that runs the company's main business, for example banking or brokerage. It brings revenues and is the part customers see. A middle office manages risks, calculates profits and in some companies, runs computers.
Outsourcing of Back Office Activities
Many companies today contract other companies to do some of the back office operations for them. Typically, those include payroll and human resources operations. In this way, companies can save on staff and office space costs. Critics of outsourcing point to security concerns and possible issues regarding the quality of outsourced staff.