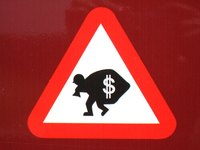 Insurance policies cover against many different perils; theft and burglary being very common perils insured against. You may want to go over your insurance policy with an agent to confirm that you are covered in cases of theft.
Definition of Perils
A peril is a specific risk that an insurance company will cover you for, or will pay a claim for. Common examples are fire, wind, hail and theft. Covered perils are either specifically named in your policy, for basic and broad forms of insurance, or specifically excluded, for special forms of insurance. Special-form insurance is considered all-risk insurance, because everything is covered unless it is specifically excluded.
Insurance Definition of Theft
The insurance definition of theft is the loss of property due to burglary, larceny or robbery. This is a typical coverage in home, renters, auto and business insurance policies. Insurance companies might hire investigators to see if there are signs something was actually stolen or if there are signs of insurance fraud.
Exclusions
There are sometimes exclusions to what is covered for theft. For example, some companies will not cover compact disks or music devices stolen out of a car. Also, mysterious disappearance is typically not considered theft. This refers something that is missing that you might have lost.