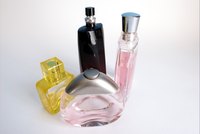 In a perfect world, you'd have a perfume to match every outfit--each one in a bottle just begging to be shown off on your vanity, of course. Until then, understanding perfume families, notes and strengths will help decide on the right one.
Perfume Families
Individual perfumes belong to fragrance "families"—a group or category of fragrances that share certain characteristics or notes. Traditionally, women's perfumes fall into one of five major families: Oriental, Floral, Chypre, Citrus and Fougere.
Oriental perfumes traditionally feature notes of amber, incense, resins and spices. Modern Orientals, also called Gourmands, feature "edible notes" such as vanilla, chocolate, maple syrup or even coffee.
Floral perfumes emphasize flowery notes, of course—popular notes include roses, jasmine, lilies and freesia.
Chypre fragrances, or woody fragrances center on the scent of oakmoss, and may include other woody notes as well. Bergamot is traditionally used to balance the earthiness of these perfumes.
As the name suggests, lemons, oranges and other citrus fruits take the starring role in Citrus perfumes, though green notes and hints of Chypre notes make frequent appearances as well.
Fougère (French for "fern") family is named after Fougere Royale, the first Fougere composition, which was introduced in 1882 by Houbigant. Fougere perfumes are based on combining oakmoss, lavender and coumarin notes, for soft effects. Citrus, vanilla, spices, woods, florals, and herbs may also be added.
Top, Middle and Base Notes
A perfume's top notes are its introduction, the first impression you get when you first sprizt yourself with a fragrance. The top notes usually evaporate within five to 30 minutes, giving way to the middle notes. The middle notes are perfume's true character, and perfumes are classified into families based on this blend of scents. They may be subtly evident the moment you apply the perfume but will take at least 10 to 30 minutes to fully develop. Base notes create the perfume's "drydown"—often a warmer or more powdery aroma that lingers on after the top and middle notes have faded.
As you sample and compare different perfumes, you'll begin to discover which notes or blend of notes you like best and which tend to work best with your style and body chemistry.
Perfume Strengths
A parfum is usually the strongest or most concentrated scent you can purchase—typically 15 to 25 percent perfume oil dissolved in alcohol. The two strengths most of us are familiar with, eau de parfum and eau de toilette, are eight to 15 percent perfume oil and four to 10 percent perfume oil, respectively. While we generally think of the term "cologne" as simply meaning a man's fragrance, the phrase "eau de cologne" actually signifies that the product is a blend of two to five percent perfume oil in alcohol. Eau fraiche is the weakest fragrance, containing three percent or less perfume oil.