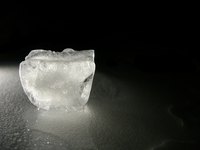 Acne is a common skin problem. Teenagers and adults alike battle pimples and pustules that affect their skin and self-esteem. One method of acne treatment is to rub ice on the skin.
Benefits
Ice is used to reduce swelling, as in the case of an injury such as a sprained ankle. With acne, rubbing ice on the skin can help to reduce inflammation. This can reduce the extent of acne and may also alleviate pain or discomfort.
Misconceptions
There is no cure for acne. Using ice as a means to solve your acne problem is likely not to work. Ice can shrink pores and may reduce the appearance of acne. As such, it is a method of treatment, and not a solution.
Time Frame
It is recommended that you rub ice on acne for 5 to 10 minutes each day to help reduce inflammation and any discomfort or related pain. You may apply ice more often if necessary but be mindful that excessive use may dry your skin out, causing irritation and possibly making acne worse.