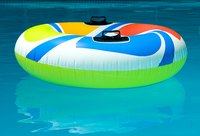 Summer means sunshine and swimming. For those with natural blond or bleached hair it may also mean the threat of hair turning green. Understanding what turns hair green will make it is easier to prevent.
Chlorine
It is a common misconception that chlorine in pool water is what turns blond hair green during the summer. Chlorine damages hair by stripping the cuticle and even acting as a bleaching agent, but it does not cause hair to turn green. However, chlorine does encourage the effect.

Copper
Copper is the cause of hair turning green. Chlorine causes copper to oxidized in water, which then binds to the protein in the hair shaft and deposits its color. This should not occur unless the pool or water source is not well maintained.

Treatment and Prevention
Sealing the hair cuticle with conditioner before going swimming will help to counteract the effects of copper binding. Rinsing the hair immediately after going swimming will also eliminate most of the copper from the cuticle. Another factor to consider is that bleached and highlighted hair is more susceptible to copper binding.