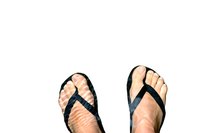 Americans traveling abroad often have a reputation for being culturally unaware and insensitive to local custom. You can soften this stereotype and improve your vacation experience by being sensitive and choosing appropriate clothing to avoid a clash of cultures in Honduras. Discovering what type of clothes Hondurans wear and a few simple packing tips will have you well on your way to a memorable trip.
In the City
Honduran professionals wear clothing similar to their North American counterparts. For men, a pair of khaki pants and a white shirt is appropriate just about anywhere, and women are safe wearing a long skirt and blouse. Young Honduran girls wear very short skirts or jeans, and most men wear jeans. Only tourists are seen wearing shorts in town.

In the Country
Villages in Honduras tend to be even more conservative than the city. Visiting women should wear long skirts and dresses to avoid offending the locals. Rule of thumb: the smaller the village, the more conservative it is. Local men often wear rubber boots, and women wear flip flops.

At the Beach
Limit beach wear and shorts to the islands. Towns such as Roatan, La Ceiba and Tela are accustomed to tourists and their dress, though it is better to dress conservatively. Capris are acceptable.