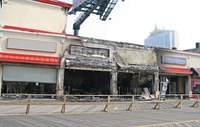 Business income insurance, also known as business interruption or time indemnity insurance, is coverage that pays the insured for loss of income and expenses following physical damage to property resulting in a partial or total shutdown of operations.
Coverage
Business income insurance covers the insured for income lost during a period of restoration following a qualifying event that interrupts operations. It pays for anticipated income, ongoing expenses and wages.
Period of Restoration
According to United Policyholders, the period of restoration is the amount of time necessary for the insured to resume business operations. This period is the time-frame in which benefits are paid while the business is being restored to operating status.
Basis of Coverage
Business income insurance provides a company with income equal to what it would have earned if there had been no loss. The gross earnings of a company are the basis for this coverage.
Standard Coverage and Rider Policies
According to the CPA Journal, standard policies pay for restoration costs only. Standard coverage typically excludes damage caused by outside power failures, direct physical damage to antennas and computer failures. Additional endorsements, or riders, can be purchased to cover additional expenses and exclusions.