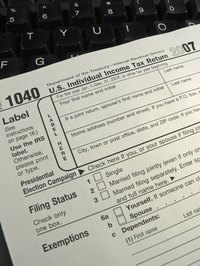 The Internal Revenue Service requires individuals and businesses to file annual tax returns if they have any income from a job, business profits, investments, interest, capital gains and other forms of taxable income. People sometimes incorrectly refer to a tax refund as a tax return.
Definition
An income tax return is the collection of forms that tax payers use to document their income, tax liability, tax deductions and tax credits. People file the completed forms online or by postal service.
History
The first income tax return dates to 1862 and was four pages long. According to Huliq, current tax returns can reach thousands of pages for some business returns.
Types
There are three types of tax returns: city, state and federal. Although some states do not impose an income tax, each state that does has its own tax return forms. Most states require information from your completed federal return. City or municipal income tax returns usually require information from your federal return as well.