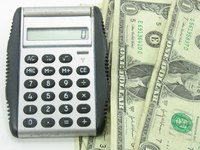 Depreciation is the allocation of a fixed-cost asset over time. This spreads the cost of an asset out in increments over the accounting life of the asset rather than having the cost tied to production.
Basics
Depreciation is the recognition that business assets decrease in value over time with use. It is usually treated as a fixed cost because the cost of the asset is fixed and not tied to production.
Common Depreciation Methods
Straight-line depreciation and the reduced balance method of accounting are two common techniques to account for depreciation as a fixed cost. According to an explanation by tutor2u.net, straight-line is the even spreading of the asset's cost over its estimated life. The reduced balance method accounts for larger portions of the cost earlier based on depreciation calculated as a percentage of remaining asset value.
Variable Cost Exception
According to college-cram.com, the only exception to depreciation being treated as a fixed cost is when the "units-of-production" accounting method is applied. This approach allocates asset costs based on how much the asset is used for production. Since this approach ties the asset to production, it becomes a variable cost.