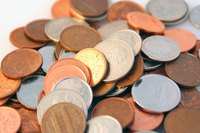 Purchasing power risk is the risk that your investment's value will decline as the price of goods rises. The investment's value itself does not decline, but its relative value does, which is essentially the same thing.
Inflation
Inflation is when the general price of goods rises. This can happen for a variety of complex reasons, including a growing economy and a rising money supply. This means that if you have $1,000 under your bed and inflation rises 5 percent in a year, your $1,000 has lost 5 percent of its value, as it cannot buy what it could buy a year earlier.
Fixed Payments
Purchasing power risk applies best to situations where payments are fixed. An excellent example is a fixed annuity, which gives a certain percentage return on a certain principal every year. Since the price of goods also rises every year, this return is actually decreasing in relative value.
Hedging
The best way to hedge against purchasing power risk is to invest in things with variable returns. This means that the investments will (hopefully) adjust with the economy as a whole; if the price of goods rises, then so will the profits of the companies you are invested in, and vice versa. Both will affect the return on your investment, thus shielding you from purchasing power risk.