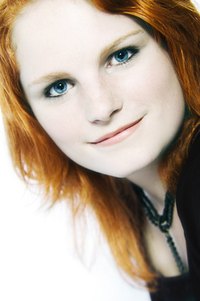 Redheads do not have to try in order to get noticed--their unusual hair color along with their fair skin does the trick. Since redheads look better in lighter, less dramatic makeup, skin takes center stage. An even, luminous complexion is a terrific foil to the vibrancy of red hair.
Considerations
Nearly all redheads have sensitive skin, so gentle skin care products are a must. Twice-daily cleansing with a sulfate-free cleanser, alcohol-free toner and a daily moisturizer is essential for keeping fair skin calm, hydrated and for fighting redness. Once-a-week exfoliation with an enzyme-based product instead of grainy exfoliators will help to even out the skin and increase natural glow.
Prevention/Solution
It cannot be stressed enough—daily use of sunscreen is absolutely vital for redheads. According to CBS News, researchers have found that the melanin in redheads is chemically different than that of other hair colors and raises the risk of skin cancer in redheads. A broad-spectrum sunscreen of SPF 30 or better will help block most of the sun's rays. For those with very sensitive skin, physical sunscreens featuring non-chemical ingredients such as titanium dioxide and zinc oxide will protect the skin with minimal irritation. Skin should be free of sunscreen at night.
Habits
Use products that are free of added fragrances and dyes. These ingredients are the most common cause of skin irritation. Eating a diet full of antioxidants such as vitamins A, C and E, along with green tea and soy extracts will help fight recent sun damage and internally protect from future damage.