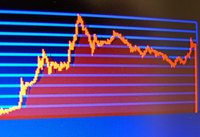 A 401k is a retirement vehicle that holds shares of stocks, bonds or mutual funds. You may own shares of stocks within a 401k if stocks are an asset allocation choice.
Company Stock
Within your 401k, you may be allowed to pool your money with other employees to buy shares of stock in your employer. Ownership is measured in units of the fund rather than shares of stock.
Matching Contributions
An advantage of having shares of stock or mutual funds in a 401k plan is your company may match your contributions up to a point.
Withdrawal Penalties
If you buy shares of stock in a nonretirement account, you pay taxes but no penalties for withdrawal. If you take money out of a 401k before age 59.5, you pay an early distribution penalty of 10 percent.
Limits
You can invest as much as you want in stocks outside a retirement plan. However, in a 401k the limit is $16,500 for 2010.
Selling Shares
If you own shares of stock that you manage using a discount brokerage firm, you typically can sell shares anytime during trading hours. However, it may take a few days for a stock sale to settle in your 401k.