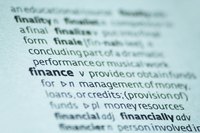 Accounting rules and regulatory guidelines require that a company report accurate and complete financial statements at the end of each quarter and year. Accounting depreciation entries help a firm report accurate fixed-asset amounts.
Definitions
In accounting parlance, depreciating a fixed asset means spreading the cost of the asset over several years. A firm depreciates only fixed assets. A fixed asset, also known as a long-term asset, is a resource a company intends to use for more than a year. Examples include equipment, machinery and land.
Accounting
To record a fixed-asset depreciation, an accountant debits the depreciation expense account and credits the accumulated depreciation account. Unlike salaries or the cost of materials, depreciation expense is a noncash item because a company does not pay for it.
Net Income
To calculate a company's financial income, an accountant deducts the depreciation expense from total sales revenue. The procedure is used for income tax purposes. However, the accountant adds the depreciation amount back to net income after a firm makes tax payments because depreciation expense is a noncash item.