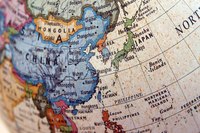 True north and grid north are two of three baseline measurements used on a map or globe to determine direction. The two will differ because true north is based on the Earth's spherical shape, while maps are flat projections of this shape. The third baseline measurement is magnetic north.
True North
True north is the direction toward the geographic North Pole, which is located in the Arctic Circle and is the northernmost point on Earth. On maps, true north is marked with a line that's topped with a solid-colored, five-pointed star. Those without a map can identify true north by finding the star Polaris, which is located above the North Pole and often called the Northern Star.
Grid North
Grid north is a vertical line on a map that runs parallel to the prime meridian and points north. On a flat map, grid north lines do not follow true north lines, as true north follows the Earth's curved surface. On maps, grid north is marked with a line topped with the letters "GN."
Magnetic North
Important to travelers who use a compass, magnetic north is the point in the Canadian Arctic, near the North Pole, where the Earth's magnetic fields are vertically oriented. Its exact location slightly but continuously shifts, based on Earth's rotation. On maps, magnetic north is marked with a line that ends with half an arrowhead.
Other Guides
The other primary lines on a map are those that represent longitude and latitude -- the imaginary vertical and horizontal lines that wrap around and divide the Earth and can help identify a point's exact location.
Added Insight
Unlike the magnetic North Pole, which can drift, the geographic North Pole, or true north, has a fixed location at 90 degrees north latitude. There is no land at the North Pole. Because ice in that part of the Arctic Ocean can get as thick as 9 feet, however, many explorers have walked on it.