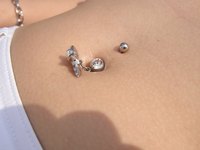 If you are considering getting your navel pierced, choosing the correct ring or jewelry is not all about how it looks. Jewelry for an initial piercing should meet certain guidelines for safety. Using the wrong jewelry may interfere with your ability to heal and put you at a higher risk for infection.
Size
For any piercing, you must choose jewelry that is the appropriate diameter or length for your body. Initial jewelry for a navel piercing is typically 11 mm in length. If jewelry is too small or tight, it may cause swelling, embedding or other complications. Excessively large jewelry may lead to trauma from catching or pulling on it.
Gauge
The gauge refers to the thickness of the jewelry. For a new navel piercing, use a 12- to 14-gauge item. Using jewelry that is too thin can lead to migration or rejection of the jewelry from your body.
Shape
The first piece of jewelry for your navel should be a ring or a curved or circular barbell. Your piercer should be able to assist you with choosing which style suits your body best. Depending on your body type, some styles will heal better than others. Corkscrews, dangling pieces and other shapes may not heal properly.
Material
Initial jewelry should be made of a material that is compatible with the body and that can withstand the sterilization process. Recommended materials for new piercing include surgical steel, titanium, niobium, platinum, biocompatible polymers, as well as gold if it meets certain criteria.
Quality
New, sterile jewelry is recommended for an initial navel piercing. The piece should not have any irregular surfaces and it should be free of scratches, nicks and polishing compounds.