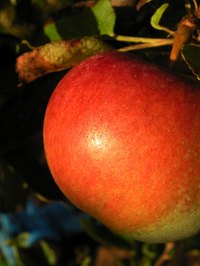 Red apples do not start out red. In fact, new apples on a tree are green. Anthocyanin is the nutrient and pigment found in the skin of red apples that deepens in color as the fruit ripens.
Light Absorption
Anthocyanins absorb blue and green light, therefore, light reflected by the skin of an apple looks red.
A Brighter Red
Anthocyanins are sensitive to the pH in the cell sap. Higher acidity, or a lower pH, results in a brighter red. If there is a low acidity, the color will have more of a purple hue.
Ripening
Anthocyanins are formed by a reaction between the sugars and proteins in a cell. This reaction occurs only when there is a high sugar content in the cell, which is why apples are not red until they begin to ripen.
Sunlight
The reaction between the sugars and proteins that forms anthocyanins requires sunlight. Some apples may be redder on one side than the other. This is because the greener side did not receive as much sun on the tree as the deeper-red side of the fruit.
Cultivation
Centuries of apple cultivation have resulted in several varieties of apples that have different concentrations of anthocyanin. The color of apples also varies depending on environmental and developmental conditions.