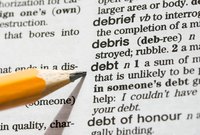 In accounting parlance, a promissory note is also referred to as an account payable. It is a contract in which one party agrees to make a payment to another party at a given point in time.
Definition
A promissory note is an agreement in which business partners, such as customers, suppliers or lenders, agree to pay or receive payments at specified dates in the future. For example, a customer may write a promissory note to a supplier after receiving goods.
Recording Notes Payable
A customer sends a note payable to a vendor or supplier after receiving an order. The customer's accountant debits the cost of goods sold account and credits the notes payable account. In accounting terminology, crediting a debt account, such as notes payable, means increasing its balance.
Paying Vendor Bills
When the customer pays a bill, the accountant credits the cash account and debits the notes payable account (to bring it back to zero). In accounting parlance, debiting an asset account, such as cash, means increasing its balance.
Recording Notes Receivable
A supplier receives promissory notes from customers when he sells goods on credit. An accountant working for the supplier records a credit sale by debiting the notes receivable account and crediting the sales account.
Receiving Customer Payments
When a customer pays for goods or services, the accountant reverses entries in the notes receivable account to bring the account balance to zero. She debits the cash account and credits the notes receivable account.