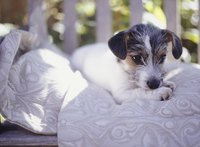 Dogs need daily water intake for hydration and nutrition purposes. Water is the primary constituent of their body's cells. As a result, dogs require it for healthy and normal functioning. They simply can't sustain themselves for long without this vital nutrient.
Daily Water Requirements
Water accounts for close to 80 percent of a dog's body, similarly to people. Not only does it hydrate dogs, but it also nurtures them. A dog's individual water intake needs are based on factors such as age, body size, exercise and weather. They typically, however, must drink in the range of 8.5 and 17 ounces for every 10 pounds they weigh each day. Physically active and athletic dogs require more water than others, as well. If you're unsure about your dog's specific water needs, a veterinarian can help you determine exactly how much he should drink daily.
Water Intake Considerations
Some situations influence how much water dogs need to drink. When the weather is warm or hot, dogs require more water than they do at other times. Otherwise, they could dehydrate. Common indications of dehydration in dogs include inordinate panting, exhaustion, sunken eyes and gait problems.
Dogs also require additional water when they're participating in physical activity. When your pet is exercising, he must consume between two and three times more H20 than normal.
Clean Water Availability
Make sure your dog always has plenty of clean and fresh water easily available to him. If your dog accompanies you on a hiking excursion, for example, provide him with a portable water bowl that's collapsible.
If you're worried about your pooch knocking over his bowl when you're not around, purchase a tough stainless steel bowl that's equipped with sloping edges. It's a lot harder for dogs to knock these over compared to plastic bowls.
Never let your dog drink from potentially unclean and hazardous water sources including swimming pools, birdbaths, public fountains and ponds.
Immoderate Water Intake
Immoderate water intake in dogs can sometimes signify certain health conditions. Kidney failure, Cushing's disease, diabetes insipidus and diabetes mellitus are all just a few common examples of health ailments that are associated with excessive water consumption. Immoderate and incessant water intake can sometimes even denote a compulsive issue in canines. If you suspect that your dog's water intake is out of the ordinary, schedule an appointment with your veterinarian immediately.