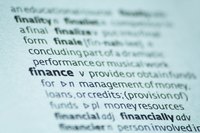 In an auditing process senior management asserts, or indicates to auditors, that financial statements are complete and conform to generally accepted accounting principles. Financial statement assertions help top executives ensure that accounting reports are accurate.
Significance
Financial statement assertions play a significant role in an examination of corporate controls. They establish rules by which finance and accounting staff members must abide when performing duties.
Presentation and Disclosure
The "presentation and disclosure" assertion helps department heads present financial data in accordance with accounting rules and industry practices. These rules include Securities and Exchange Commission requirements.
Existence or Occurrence
"Existence or occurrence" helps a firm ensure that all transactions making up financial account balances actually took place. To illustrate, an auditor must ensure that the sales revenue amount includes earnings from actual sales.
Completeness
The "completeness" assertion indicates that senior management believes financial reports include all transactions. For example, top executives may assert the balance sheet includes all assets, liabilities and equity accounts at the end of a month or quarter.
Rights and Obligations
"Rights and obligations" helps segment managers and department heads ensure that a company owns assets listed in the balance sheet. This assertion also helps a company confirm that its liability amounts are accurate.
Valuation or Allocation
"Valuation or allocation" relates to asset depreciation procedures. In accounting parlance, depreciating an asset means spreading its cost over several years. There are two types of depreciation methods—straight-line and accelerated.