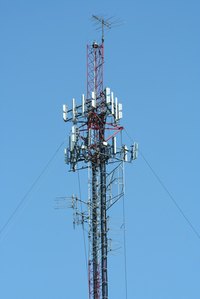 Homeowners have always had a lot to worry about, from health scares like radon exposure to development projects like highways and wind turbines. Recently, many are wondering whether a new cellular tower in their neighborhood might spell lower property values.
Concerns
Sometimes rising up to 300 feet, cell towers can be a serious intrusion on the local scenery. Several studies also suggest that the towers' electromagnetic fields may pose serious health risks such as sleep loss, fatigue and cancer.
Benefits
As more people switch to cell phones for their main service, reliable reception is becoming a necessity. The improved signal from nearby cell sites may actually boost your property values.
Impact
The effect of cell towers on property values will vary depending on how homeowners in the area rate their costs and benefits. In Britain, homeowners and real-estate agents have reported drops in home prices as high as 10 percent, while a 2004 study found only minimal changes in a Florida community.
Outlook
As more information comes out about the safety of cellular signals, their impact on home values is likely to change.
Alternatives
Many cellular service providers try to hide unsightly cell sites by disguising towers as trees or by putting antennas on top of other tall structures like water towers.
Options
If you are concerned about the effect of cell phone towers on your property values, a real-estate appraiser can give you some idea about what to expect. In the past, local zoning boards have succeeded in blocking tower construction or receiving compensation.