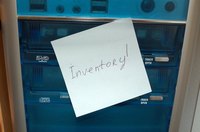 Inventory is often one of a firm's most important assets (See Reference 1). Generally accepted accounting principles allow business owners to choose from several methods of accounting for inventory-related transactions.
Definition
Inventory is a collection of tangible assets held for re-sale. The firm's balance sheet shows the cost of inventory as an asset within a normal balance of debit.
Examples
Common types of inventory include raw materials, work in process, finished goods, food and retail items (See Reference 1).
Journal Entries
The accountant debits inventory and credits cash or accounts payable when the firm purchases inventory. When the firm sells or distributes inventory, the accountant debits cost of goods sold and credits inventory.
Methods
The most common methods of accounting for inventory are first-in, first-out (FIFO), last-in, first-out (LIFO), weighted average and specific identification. Accountants expense the oldest items first with the FIFO method, the newest items first with the LIFO method, an average of all inventory with the weighted average method and the exact amount of the item with the specific identification method (See References 2 & 3).
Effect on Financial Statements
Specific identification produces the most accurate financial results because the accountant expenses the exact cost of each item sold. But that method isn't always feasible with large volume inventories. Because the cost of purchases increases over time, the FIFO method produces a higher net margin and a higher inventory balance, the LIFO method produces a lower net margin and a lower inventory balance, and the weighted average method results in values between FIFO and LIFO calculations (See Reference 4).