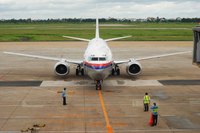 FedEx First Overnight is a shipping option to ensure priority next-business-day delivery. This particular option guarantees that packages should arrive at their destination first thing on the next business day.
Next-Business-Day Delivery
Depending on the destination zip code of your package, delivery should take place no later than 10 a.m. on the next business day. Delivery guarantees begin as early as 8 a.m. in some areas. FedEx provides a chart that lists the approximate arrival times for packages according to zip codes.
Availability
FedEx First Overnight is available Monday through Friday throughout the United States. However, Hawaii service is limited to outgoing packages only. Saturday pick-up is also available in some areas for an additional charge.
Cost
FedEx First Overnight is one of the more expensive FedEx Express shipping options. The total cost is determined by the size, weight, and destination of the package.
Package Restrictions
Each package may weigh up to 150 pounds and the length of the package cannot exceed 119 inches. Packages must also be less than 165 inches in length plus girth. Girth is calculated by adding package length to two times the height plus two times the width.
Extra Services
For an additional fee, you may require an indirect, direct, or an adult signature to help ensure package delivery. FedEx will also provide return labels for each package at an additional cost.
Dangerous Goods
With the exception of dry ice, dangerous and hazardous items may not be shipped though FedEx First Overnight. After being properly identified, dangerous and hazardous goods may be sent through other FedEx delivery options.