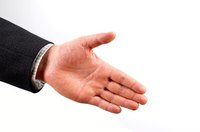 A business website gives you a way to provide an online introduction to your business. You can reach thousands of potential customers, but you have to include the information they need.
Contact
Always provide contact information. The basics--company name, phone, physical address and email address--should appear on the footer or header of every page. Provide a separate Contact page with a contact form and more detailed contact information: departments, managers and other individuals who need to be available to customers.
Company Overview
A brief overview of your business or a summary of company history should appear on an About page. This is the online way of letting customers know the background on your business.
Service and Product Description
Even if you don't sell online, people will want to know what you do. Provide a brief description of each service or product, or of each category of services or products.
Mission Statement
Customers want to know what you stand for as a business, so provide your mission statement or business vision on the front page or on a page by itself. A paragraph or two should be long enough.
Call to Action
You want your online visitors to do more than browse your website; you want them to become customers. Create a clear call to action: a great discount urging them to buy, a way to request information or an online subscription to your newsletter.