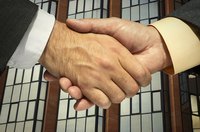 Horizontal consolidation is more commonly known as horizontal integration in the business world. This type of transaction happens in all forms of business, including travel, agriculture and car production.
Merging
When companies producing the same product merge, this is called horizontal consolidation.
Production Stage
Businesses consolidating must be in the same production stage in order for the action to be a horizontal integration. If for example, businesses producing engine parts and tires merge, this is called vertical integration.
Examples
An example of horizontal consolidation in the clothing world is Gap Inc., which runs Banana Republic, Athleta and Old Navy in addition to its Gap brand. In the food industry, Conagra Foods handles dozens of popular brands, including Marie Callender's, Orville Redenbacker and Chef Boyardee.
Possible Monopoly
Concerns arise when firms producing the same product merge, because the resulting entity holds a larger share of the market.
Law
If the U.S. government suspects a company may be monopolizing a market, it can prosecute offenders through the Sherman Antitrust Act of 1890.