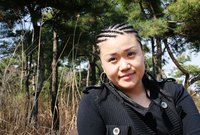 Traditional South African hairstyles celebrate the diverse hair texture of African women. Consequently, South African hair styles are some of the most creative in the world. In general, native South African hair texture tends to be thick, curly and sometimes difficult to manage. South African hairstyles were designed to beautify and celebrate traditional African hair; while also making it more manageable.
Cornrow Braids
Traditionally called plaits, cornrow braids were created for hot and arid climates. These types of braids allows thick, tightly curled hair to lay flat in an attractive design. South Africans wear cornrows. The name cornrow comes from the similarity between freshly planted rows of corn and these flat braids. Cornrow braid hairstyles have been funneled into countries all over the world, including the United States. African art work as early as 500 B.C. shows images of braids, according to Culturally Situated Design Tools. This fact leads many experts to believe that cornrow braids originated in Africa.
Locks
Also called dreadlocks or dreads, locks are the deliberate process of twisting naturally curly hair into thin, medium-sized or thick strands all over the head. This process usually takes 10 to 20 hours depending on hair texture and length. Locks cannot be taken out; they need to be cut off if a woman desires a change in hairstyle. Locks originated in ancient East Africa, according to The Dread Library, and made their way through the continent of Africa over the past century. South Africans wear dreads. The meaning of dreadlocks is two-fold. Some people keep long locks for religious reasons, and others want hair that represent a lion's mane; which is considered a majestic animal in Africa.
Twists
Twists, which are similar to braids, utilize two strands instead of three, and they are also a natural style. Unlike locks, twists are temporary. South Africans may use twists to have a locked type of hairstyle, without the permanency.
Natural
Natural hairstyles are curly styles in natural, un-relaxed hair. A natural South African hairstyle may be a short cut with curls or short twists.
Freedom
According to an article by Sherri Day, published on the University of California Berkley School of Journalism website, many South Africans have embraced natural hairstyles for the purpose of regaining culture and identity in the post-apartheid era.