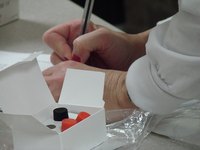 It's time to test estrogen and progesterone levels when women experience infertility, heavy and abnormal bleeding, or menopausal symptoms, and men notice abnormal growth of breasts. Increased or decreased levels of either of these hormones can point to other health issues.
Testing Estrogen Levels
A physician tests estrogen levels by taking a blood sample from a vein, or by taking a 24-hour urine sample. Less commonly, a saliva sample may be taken.
Interpreting the Test
The physician checks the test results to see if estrogen levels are increased or decreased. Elevated levels of estrogen may point to conditions such as gynecomastia in men, hyperthyroidism, or endometriosis, among other things. Decreased levels may point to Turner's syndrome, hypogonadism, or anorexia nervosa.
Testing Progesterone Levels
If a patient is experiencing fertility problems or miscarriages, her doctor may test her progesterone levels. To do this, the physician will take a blood sample, or, in rare circumstances, a saliva sample.
Interpreting the Test
Using the test results, the physician will evaluate whether progesterone levels are increased or decreased. Increased levels can point to conditions such as ovarian cysts, a rare form of ovarian cancer, or a non-viable (molar) pregnancy. Decreased levels may point to decreasing ovarian function, ectopic pregnancy, or toxemia.
Consult Your Physician
Whether suffering from infertility or experiencing abnormalities during menstrual cycles, it is always best to consult a physician. In order to make an informed diagnosis, the physician needs information about estrogen and progesterone levels.