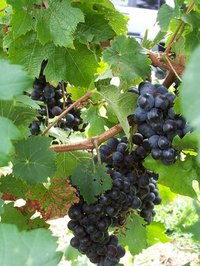 Concord grape juice has been used as a natural remedy for arthritis pain since the 1940s. In more recent years, it has been combined as a drink with Certo, pectin used in making jellies and jams.
Types of Arthritis
The two most common types of arthritis are osteoarthritis and rheumatoid arthritis; both affect the joints and bones.
Grape Properties
Concord grape juice is high in flavonoids, which are powerful antioxidants known to combat the effects of free radicals in the body. The purple grape juice family is not only helpful in preventing heart disease and cancer, but also provides effective relief for arthritis sufferers.
Pectin Properties
Pectin is found in primarily in plant cells from apples, plums and pears. It is used as a thickening agent in cooking; once consumed in the body it is a dietary fiber.
Recipe
The recipe for grape juice remedy is simple; mix 2 teaspoons of Certo in 3 ounces of 100 percent Concord grape juice. Drink 2-3 times daily until the pain subsides.
Caution
If you are taking other medications, it is wise to tell your health care provider about your grape juice and Certo drink for pain.