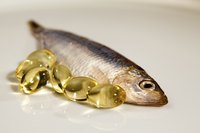 Omega-3 fatty acids are essential polyunsaturated fatty acids your body can't make on its own. They help with brain function and may reduce your risk of heart disease. It's best to get your omega-3 fats from fish or fish oil, as fish contains eicosapentaenoic acid, or EPA, and docosahexaenoic acid, or DHA, the types of omega-3 fat your body uses. Plant-based sources of omega-3 fats provide mostly alpha-linolenic acid, or ALA. While your body can convert ALA to EPA and DHA, the conversion isn't very efficient. Although omega-3 fats are healthy in moderation, getting too much of them may be harmful.
Potential Side Effects
Fish oil and other omega-3 supplements can cause diarrhea, belching, gas, bloating, an unpleasant aftertaste, indigestion, heartburn, upset stomach, loss of appetite, nausea or difficulty having a bowel movement. According to Drugs.com, these side effects will most likely resolve themselves as your body gets used to your increased intake of omega-3 fats. Speak with your doctor if your symptoms are particularly bothersome or don't resolve over time.
More-Serious Side Effects
Other, less common side effects warrant checking with your doctor right away. These include coughing up blood, dizziness, skin rash, irregular heartbeat, difficulty swallowing or breathing, nosebleeds, unusual tiredness and red in your urine or stools. Although EPA and DHA may help prevent prostate cancer and macular degeneration, preliminary research shows that ALA may have the opposite effect, according to the University of Maryland Medical Center.
High doses of omega-3 fats may cause increases in bleeding time, and high levels may also increase low-density lipoprotein, or LDL, the bad cholesterol. Choose fish oil supplements that have been purified to reduce toxins, such as PCBs, mercury and dioxins, as these can be toxic.
Research Results
Consuming really high levels of omega-3 fats could cause health problems, although it isn't yet clear what the safe upper limit is, according to Oregon State University. A review article published in "Prostaglandins, Leukotrienes and Essential Fatty Acids" in 2013 noted that high intakes of omega-3 fats could decrease immune function and impair the clearance of pathogens.
This evidence is still preliminary, however, with much of it coming from animal studies. This includes a study published in "Cancer Research" in 2010 that found mice fed high amounts of DHA had an increased risk of inflammatory bowel disease and colon cancer. Longer-term studies in humans should shed some light on the safety of omega-3s, but play it safe by only taking the dosage recommended by your doctor.
Contraindications and Medication Interactions
Omega-3 supplements can interact with certain drugs, including diabetes medications, blood thinners, steroids, cholesterol medications and NSAIDs, such as ibuprofen. People with bleeding disorders shouldn't take omega-3 supplements, as they can increase bleeding, and those with diabetes should only take them under a doctor's supervision because these supplements may increase blood sugar levels.