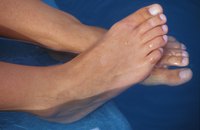 Lyme disease is caused by bacteria that is spread by tick bites and leads to inflammation from the bacterial infection. Inflammation, also known as swelling, may develop in a patient's ankles or other joints.
Joint Inflammation
According to the U.S. National Library of Medicine, people infected with Lyme disease may develop joint inflammation as the disease progresses into an advanced stage. Patients with Lyme disease who experience swollen ankles or other joint inflammation should get help from a doctor as soon as possible.
Severe and Migratory Joint Symptoms
Individuals with untreated Lyme disease may develop severe periods of joint swelling and pain that persist for a few weeks or months, according to the Mayo Clinic. This severe pain and inflammation may also shift between various joints in the body such as ankle or knee joints.
Other Symptoms
Lyme disease may cause fever, headaches and muscle pain. Lethargy, a stiff neck and itching all over the body also may occur with this condition.
Treatment
Doctors often prescribe antibiotics to fight the bacteria that cause Lyme disease infections. Patients may take over-the-counter anti-inflammatory medications such as ibuprofen to relieve joint symptoms.
Complications
Patients with an advanced stage of Lyme disease may have long-term arthritic joint inflammation and abnormal heart rhythms. Difficulties with concentration, memory and sleeping may occur with advanced Lyme disease.