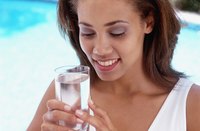 The U.S. Department of Agriculture, or USDA, puts together suggested dietary guidelines for Americans every five years. This government agency works alongside other organizations, such as the Food and Nutrition Board of the Institute of Medicine, to offer calorie, nutrient and even water recommendations for you. While no exact requirement for water exists, researchers have determined an average amount you should be drinking.
Requirements for Men
Because men tend to have bigger statures and need more calories than women, their water recommendations are a bit higher. Make sure you get at least 3.7 liters of water daily if you are male, the Food and Nutrition Board of the Institute of Medicine recommends. This amount is the adequate intake for men, known as the AI. Or if you're keeping track of ounces, this converts to 125 ounces per day.
Recommendations for Women
Your dietary water requirement changes during different stages of your life if you are female. Generally you need at least 2.7 liters -- 91 ounces -- daily to meet your adequate intake level. If you become pregnant, however, aim for 3 liters a day, which is roughly 101.5 ounces. Breast-feeding your newborn requires you to get even more water in your diet. In this case, you'll need 3.8 liters per day, or 128.5 ounces.
Increased Water Requirements
Even as you age, your water recommendation doesn't increase or decrease. But many conditions exist throughout your life in which you'll certainly need more water. For instance, if you exercise, you'll need to drink enough water to replace what you lost through sweat. If you work out in a hot climate, you'll sweat even more, further increasing your water needs. You could need as much as 8 liters, or 270.5 ounces, of water every day if this pertains to you, the Institute of Medicine reports. Drink throughout the day to keep hydrated and throughout your workout to prevent dehydration. Even though you can't calculate an exact amount of water you need for every situation, your body's natural trigger is the thirst signal. If you feel thirsty, your body is begging for more fluid.
Sources of Water
Anything you drink counts towards your daily water requirement -- water, juice, soda, coffee, milk and tea, as examples, as stated in the Dietary Guidelines for Americans 2010. Just because all drinks can help get water into your system doesn't make them all optimal choices. Water is the only unprocessed option that is calorie-free and sugar-free. In addition to fluids, you'll get around 20 percent of your total water needs from food. So if you have a hard time getting yourself to drink, add more melon, soup, lettuce or other water-rich food to your diet.