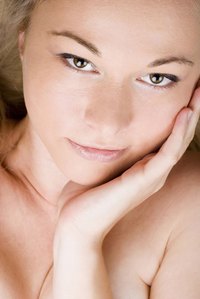 The thick, raised clusters of scar tissue known as keloids can be difficult to treat. Surgical removal can cause a keloid to return even larger. However, silicone gel may offer some help rather than more involved medical treatments.
Research
Consider that the 2002 International Clinical Recommendations on Scar Management examined the use of silicone gel for treating abnormal scars. According to the report's authors, silicone gel should be included as a treatment in the management and prevention of such scars, including keloids.
How Silicone Helps
The theory behind the use of silicone products is that they hydrate scars in a way that creates ideal conditions for them to soften and fade keloids.
Considerations
Allow for a sufficient amount of drying time if you treat a keloid with silicone gel. The gel is said to dry to a waterproof membrane, but that can take several minutes.
Warning
Be aware that warnings on silicone gel products include keeping the gel away from eyes, mucous membranes and open wounds.
Results
While silicone gel may not be unsafe for keloid scars, users' results vary. For example, online reviews reveal that some customers' keloids shrank and faded, but only after several weeks of using a silicone-gel product.