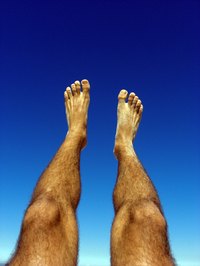 Prednisone is a corticosteroid drug that is sometimes prescribed to alleviate the leg pain associated with sciatica. When coupled with other treatments, like stretching and over-the counter drugs, prednisone can dramatically reduce the patient's pain level.
Symptoms of Sciatica
Sciatica is a term used to describe pain, numbness, weakness and tingling in the leg. It occurs when there is an injury to the spine or when the sciatic nerve becomes compressed. There are many causes of sciatica; some of the most common include a slipped disk, degenerative disk disease, spinal stenosis and tumors.
Drug Usage
Prednisone is available by prescription only in the United States and comes in either a liquid or tablet form. Most physicians suggest ingesting the drug with a meal to reduce the risk of stomach upset.
Side Effects
As with any prescription medication, there are side effects associated with the use of of prednisone. These include weight gain, high blood glucose levels, osteoporosis, insomnia, bruising, acne, mood swings and high blood pressure. A few patients experience leg numbness or tingling while using prednisone.
Warning
Patients should notify a physician in the event that they experience the following symptoms: extreme anxiety, black stool, blurred vision, mental confusion, abdominal pain or severe depression. These may be signs of a serious reaction to prednisone.
History
Prednisone was commercially produced and introduced to the market in 1955 by the Schering Corporation. Currently, it is manufactured by a number of pharmaceutical companies worldwide.