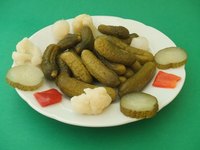 Preservatives are added to foods to slow down the rate of spoilage and to ensure a significant variety of foods long after harvest. They are often used in conjunction with other preservation methods, such as canning, freezing, or drying. Preservatives also help a food retain its color, texture, flavor, and nutritional value.
Function
Preservatives work in one of three ways. They can prevent growth of microorganisms by creating an environment hostile to them. They can block the process of oxidation that causes foods to turn rancid. They can inhibit the enzymatic processes that cause a food to ripen after it is harvested.
Examples
Preservatives are either natural or chemical. Examples of chemical preservatives include nitrates, sulfites, sodium benzoate, potassium sorbate, and propyl gallate. Common natural preservatives include salt, lemon juice (citric acid), vinegar (acetic acid), sugar, and certain spices.
Product Uses
Preservatives are used in many canned, frozen, baked, and packaged foods. They are also commonly used in pet foods and beauty products.
Safety
The FDA uses scientific data to regulate preservatives. If a substance is approved for use as a preservative, it is believed to be safe for most people. Because some people are sensitive to certain preservatives, however, the FDA requires preservatives to be listed on the nutritional label.
Labeling
A food claiming "No Preservatives" may not contain any preservatives, including natural preservatives. A food that contains natural preservatives but no chemical preservatives may be labeled as "No Preservatives Added."